A keyboard layout based on the default USA Dvorak layout.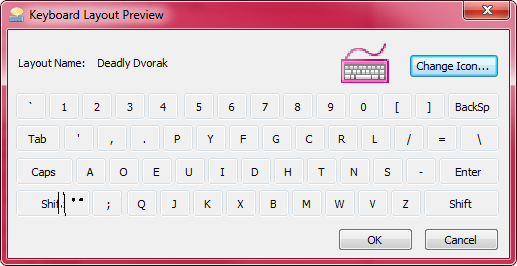 Hint: for some people, the key with the two dots isn't next to Shift, but next to Space. Might only be available on German Keyboards or Keyboards with the same number of Keys.

Sorry, encoding of table below is broken if your browser is not set to default to utf-8.



keyboard layout table
normal
shift
¨
¨ + shift
¤
¤ + shift
`
` + shift
~
~ + shift
1
!
¹
¡
¼
₁
⅟
2
@
²
½
₂
3
#
³
¾
₃
4
$
⁴
₄
5
%
⁵
‰
₅
6
^
⁶
҈
₆
7
&
⁷
⅋
₇
8
*
⁸
∞
₈
9
(
⁹
⁽
₉
0
)
º
⁾
₀

---

a
A
ä
Ä
â
Â
á
Á
à
À
b
B
β
c
C
©
ൠ
¢
ç
Ç
d
D
δ
∆
e
E
ë
Ë
ê
Ê
é
É
è
È
f
F
ƒ
∫
φ
g
G
γ

---

i
I
ï
Ï
î
Î
í
Í
ì
Ì
j
J
€
k
K
⌨
␆
l
L
⁁
£
m
M
µ
n
N
ⁿ
¬
ñ
Ñ
o
O
ö
Ö
ô
Ô
ó
Ó
ò
Ò
p
P
§
∏
π

---

r
R
®
s
S
ß
∑
∩
∧
␖
t
T
™
۩
τ
u
U
ü
Ü
û
Û
ú
Ú
ù
Ù
v
V
∪
∨
w
W
y
Y
ÿ
Ÿ
¥

---

.
>
…
,
<
҉
۞
/
?
÷
¿
=
+
⁼
⁺
≠
†
₌
₊
-
_
⁻
¯
±
₋
]
}
°


items missing:
ε
α
Ω
ω
ŷ
Ŷ
download windows installer package




This server is proundly powered by

adfinis